"There are two colours for a yacht: white or black. But only a fool would colour his boat black." – Nathanael Herreshoff, one of the most famous naval architects, mechanical engineers and innovators in yacht design in the 20th century.
A yacht simply has to shine, doesn't it? There is nothing nicer than when the pier neighbour admires your shiny yacht, maybe is even a little jealous! The glossy treatment for your boat is really no magic. It is rather a process of blood and tears to get to the high gloss shine – "Beauty is pain." – isn't it how the saying goes? To make your boat sparkle, you have to pay attention to a few things and consult an expert if you have any doubts.
Why is a yacht being polished in the first place and which surfaces can be polished?
A yacht is being polished to remove irregularities, minor damages and dirt from the surface and to protect the boat from external influences. Depending on the type of surface, the technique and means for polishing are also subject to change and need to be adjusted accordingly. The most common surfaces which are being polished are: Gelcoat, lacquered surfaces and surfaces with applied foil.
The gelcoat is an approximately 1.5 mm thin outer skin of the GRP laminate. The gelcoat becomes dull over time due to the influence of sun, salt, lime scale and wind. Boats that are coloured in darker colours, but also grey or blue hulls, suffer most from this – remember the quote from the beginning of this text.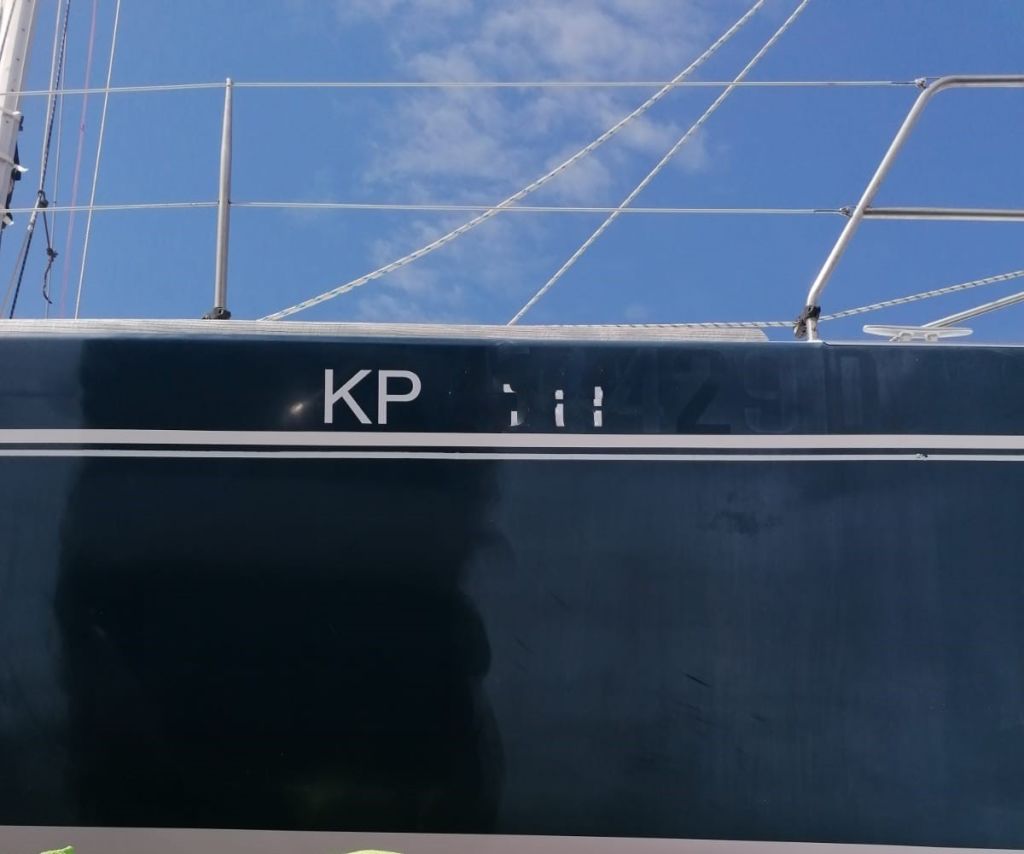 Dark gelcoat becomes milky with time, or gets a matt white layer. This can usually be brought back to shine, but this requires a lot of effort. Unfortunately, the gloss effect does not last as long as with white gelcoat.
Use the right polishing agent
Before polishing, regardless of the surface, the boat is first washed thoroughly. With gelcoat, polishing is usually carried out in 2 steps. In the first step, abrasive agents are applied to renew and smooth the surface. In the second step, the surface is sealed. For new yachts that are still relatively shiny, you can skip the abrasive polishing and just apply the sealant after cleaning.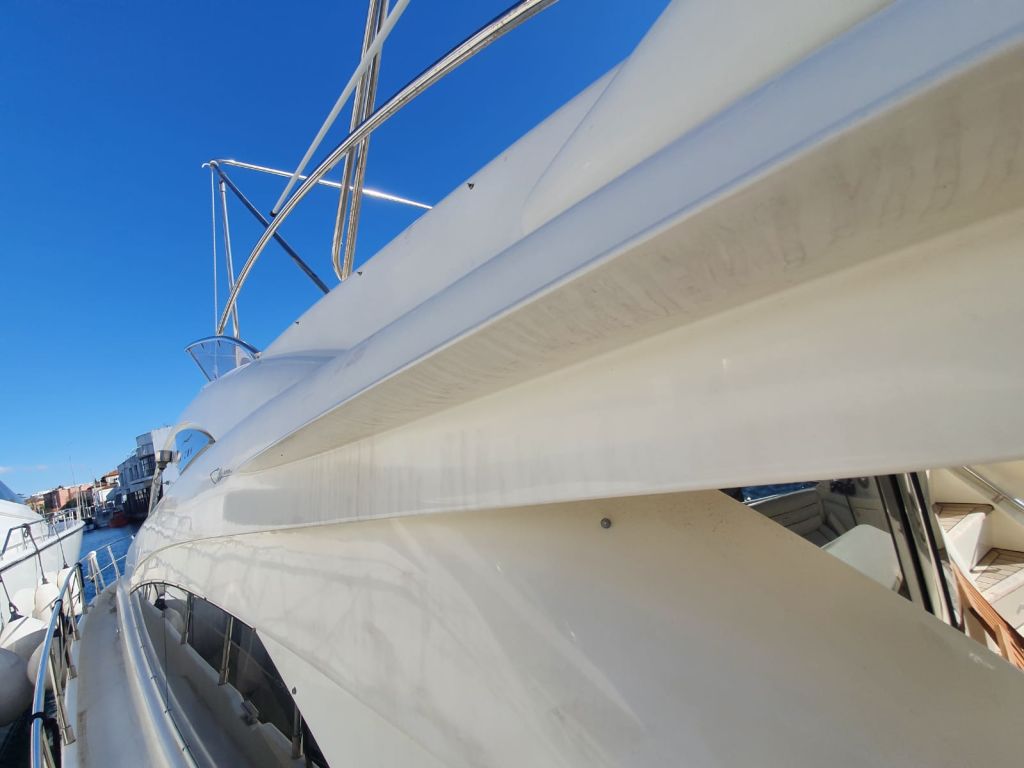 Lacquered boats can be polished as well. Here, one also works only with sealant, without abrasive polishing. With lacquered surfaces, you must pay attention to which agents are permitted by the paint manufacturer. As a general rule, all polishing agents must be chemically approved.
Foiled surfaces can also be polished, abrasively and finely. It is possible to remove fine scratches from the foil, but you must be very careful not to polish away the outer paint layer. Here, too, you must use only those agents that are recommended by the foil manufacturer. Most of them have a specification of chemical substances which must not be present in the polishing agent in order to be suitable for the selected foil.
Conclusion: A good polish will help maintain the value of your yacht for many years. Achieving a perfect surface finish usually takes a lot of time and effort. The person who carries out the polishing work must have a feeling for it and use their brains together with their muscles! Practically all surfaces can be polished. You have to make sure that you use the right polishing agent for each surface.
Polishing: The 3-Step Guide
Polishing is usually done in three steps:
Step 1: Cleaning/Washing
Step 2: Polishing
Step 3: Sealing
Polished, the boat is easier to wash and clean in season, because rain marks, pollen and other dirt adhere less to the smooth surface. On dark surfaces, any dirt and marks are extremely noticeable and the effect of the polish lasts for a shorter time.
Dull and milky gelcoat is more than just a visual problem: it accelerates the deterioration of the hull. That's why it's important to have your boat polished regularly – preferably by a professional, and then desalinate and wash it down with fresh water regularly when you use it in season. Professional polishing will bring back the shine to your yacht. A professional will also identify any structural cracks in the surfaces so that a response can be made in time and necessary measures taken to prevent the cracks from spreading.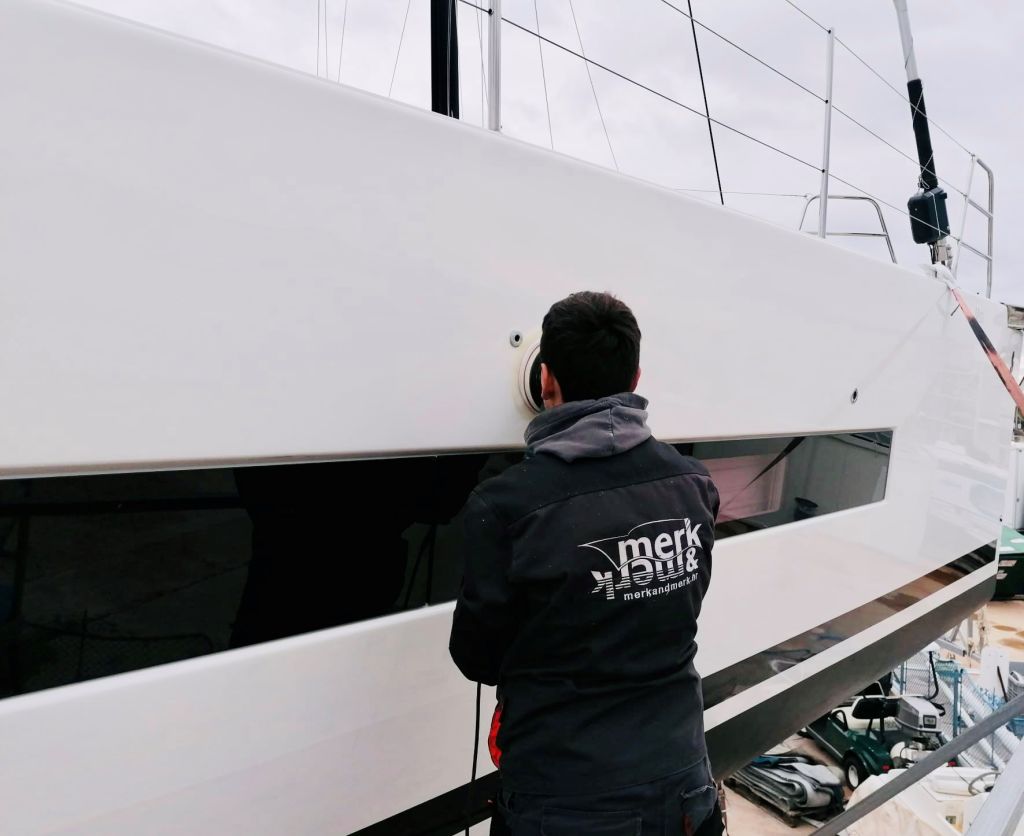 If you would like to have your boat professionally polished, we at Merk & Merk are at your disposal with over 15 years of experience. Contact us for a quote!