Why the Adriatic Sea is becoming more and more attractive for yacht owners
With a magnificent coastline, crystal clear waters and breathtaking beaches, Croatia attracts numerous vacationers year after year. Not surprising, Croatia's diversity offers its guests adventure, authenticity and relaxation at the same time. Whether it's mountain climbing, exploring historic cities, beach vacations and island hopping, or hiking through special national parks, Croatia has something in store for every type of vacationer.
For a special group, however, Croatia has become particularly attractive in recent years – yacht enthusiasts and sailing fans appreciate the vacation country on the Adriatic Sea enormously. The most beautiful attractions are also accessible by boat. Croatia's numerous boat moorings make it possible to explore the country independently and carefree by boat.
Yachting in Croatia: Your summer highlight 2022
Germany and Austria are the perfect starting points for a Croatia vacation. There is no need to travel by air for dream vacation destinations with breathtaking sailing areas, which is a huge advantage especially in times of constantly changing travel restrictions. Beautiful like the Caribbean, Croatia is very easy to reach by car starting from Germany and Austria.
The Croatian Adriatic for beginners and advanced boat owners
The Croatian sailing areas are equally suitable for experienced and less experienced yacht owners. There are numerous islands off the mainland for yachting in Croatia. Because of this, a relatively calm sea can be expected. The partially uninhabited islands are not only beautiful to explore, but act as a natural breakwater.
Good to know for boat owners
Croatia has additionally come up with a system for simplified payment of the tourist tax for its boating vacationers. The obligatory tourism tax can be paid online and already in advance. Read more about this new service from the Croatian National Tourist Board and the Ministry of Sea, Transport and Infrastructure.
Current entry requirements for Croatia
The dream of a yacht vacation with your newly purchased sailingboat or motorboat can be realized well especially in the coming season. The most popular places to start a sailing trip in Croatia are only a few hours away by car.
Currently, there are no restrictions on entering Croatia. Of course, the regulations can change again at any time.
Yacht tips for the Croatian Adriatic
Assuming that entry regulations will be reduced even further and a carefree summer vacation will be possible, Croatia offers the best conditions for a relaxing stay on your yacht. Therefore, prepare for your boating vacation already with our yachting tips.
The four sailing areas of the Croatian Adriatic
For yachting in Croatia, the sailing area can be divided into four sections: Istria, Kvarner, North-, Middle- and South Dalmatia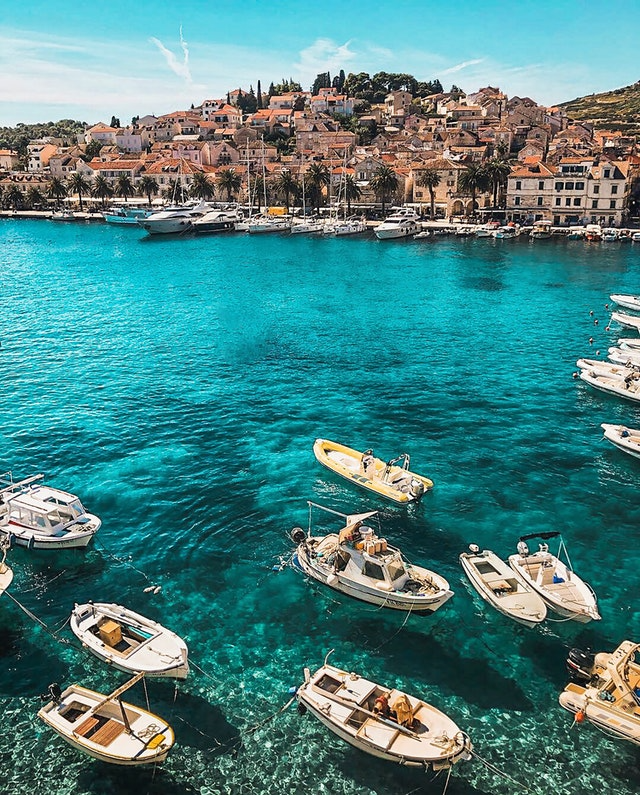 Sailing area Istria
Coming from Germany and Austria, Istria, as the northernmost part of Croatia, is the easiest way to start a sailing trip. Here are also the most famous coastal towns like Umag, Novigrad, Porec, Rovinj or Pula. The romantic old towns are still well preserved and exude a Mediterranean charm. In Istria, the marinas are also very well equipped. Finding a mooring or anchorage is usually not a problem.
Sailing area Kvarner
South of Istria lies the Kvarner Bay, which is off the coast of several small and large islands. Here you will find, among others, the famous island of Krk, from where tourists often start their yachting vacations. The selection of boat moorings on the mainland is rather limited, but the islands offer all the more marinas, from which there are many beautiful places to discover. Insider tips for a boating vacation in the Kvarner Bay: the National Park Paklenica and the sandy beach Susak.
Sailing area North Dalmatia
In front of Northern Dalmatia there is a 12 nautical miles long island chain, which protects the mainland from strong winds. Although there are so many islands, this part of Croatia is not overcrowded and rather quiet. You can count on many small fishing villages and authentic places here. Boat moorings are nevertheless plentiful. In the so-called konoba bays there are always small harbors or anchorages on buoys. These are often even free of charge, provided that you consume in the neighbouring restaurant in the bay.
Sailing area Middle Dalmatia
Middle Dalmatia and it's islands adorn beautiful nature, rich historical and cultural heritage, entertainment and modern way of living.
These diversities will satisfy appetites of the most demanding visitors. Besides of mentioned advantages, in this region large number of boats are located in many marinas (Split, Kaštela, Trogir, Makarska, Kremik, Rogoznica, Šibenik) and they are all relatively near to the Split and Zadar airport (maximum 80 min by taxi). Furthermore, the Marina Tribunj – the home port of Merk & Merk Yachting Boutique – can be found here in the heart of Dalmatia. Insider tips for yachting vacations in Dalmatia: Kornati National Park and the Krka Waterfalls. Come and visit us during your boating vacation for more tips for yachting in Croatia.
Sailing area South Dalmatia
In southern Dalmatia there are also still many offshore islands, but they no longer form a closed chain. Thus, the sea area is more open than in northern and middle Dalmatia. In addition, this part of Croatia is much more lively and touristy. With many culturally significant cities like Dubrovnik – known from the series Game of Thrones – there are some treasures to discover.
Boat moorings in Croatia
The costs for a daily berth in Croatia vary depending on the length of the yacht. During high season, for a boat up to 10 meters, between 40€ and 150€ are charged. For boats up to 14 meters long, the price varies between 60€ and 160€.
For multihulls, surcharges of 50-100% , depending on length and width, are to be expected. Most daily moorings include electricity, water and the use of sanitary facilities. However, there are some marinas that charge extra for this. In general, the prices of the individual ports are very different and not standardized. Anchorages at buoys are much cheaper or even free of charge. But also in this case, no general rule can be stated.
Yachting tip: Moorings can be booked in advance online, for example, via the website of the ACI marinas.
Summarized: 10 reasons for your yacht vacation in Croatia
Experience picturesque bays, Mediterranean flair and Caribbean feeling in the middle of Europe.
Travel uncomplicated and flexible by car
Alone on your yacht, your vacation is absolutely Corona-compliant
The diversity of Croatia will not let you miss anything
Croatia is a dreamlike sailing area for beginners and advanced sailors
Croatia is the land of a over thousand islands
With Merk & Merk Yachting Boutique you have a confident partner for all your yachting related needs.
Pay the tourist tax easily online in advance and reserve moorings
The waters are among the cleanest in the Mediterranean Sea
Croatia is suitable for a luxury yacht vacation, as well as for a trip with your sailboat with the whole family
Buy and manage a yacht
Are you dreaming of yachting in Croatia? We will find your perfect boat on the spot, whether new or used. Or maybe you have planned an upgrade to a newer or bigger yacht? In this case, Merk & Merk is your partner in selling your yacht. Contact our yachting experts for all kinds of information!