Merk & Merk: Tell us about the beginning of YACHTLITE.
Kristin & Stefan: Creativity, enthusiasm and passion are important prerequisites for any success story – and YACHTLITE is no exception. Our brand "YACHTLITE" originated from our existing advertising agency and therefore started out with a completely different vision and aspiration than a pure production company.
When we first presented our ideas at Boot Düsseldorf in 2003, we didn't dare to imagine that we would set such trends in the yacht sector. Neither did we anticipate that our illuminated names and logos would be implemented many thousands of times around the world – from small tenders to the current 180-metre mega yacht.
And so since 2003 we have been sending our products from Germany all over the world! As an owner-managed company, YACHTLITE has its headquarters in Hanover/Germany. It is here that our professional team of designers, constructors, electrical engineers and lighting experts operate, and where the individual customer orders are manufactured by hand in our own workshop. Highest precision is the be-all and end-all, because our aim is to always supply each and every one of our customers with the best possible quality. We are not satisfied until our customers are completely satisfied.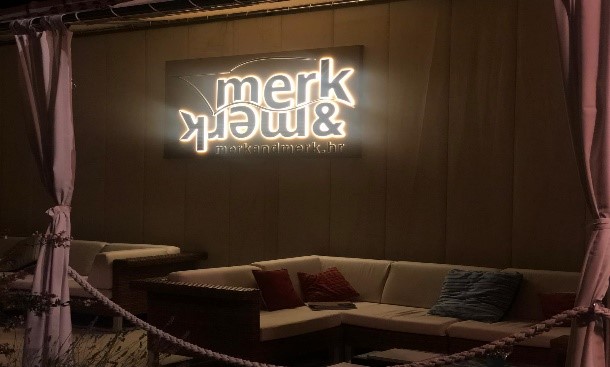 Merk & Merk: What are the new trends in the illumination of yachts?
Kristin & Stefan: The current lighting trend on yachts is to accentuate details. This means direct or discreet lighting of e.g. radar or satellite domes, highlighting furniture or surface details as well as creating very individual, special lighting moods by means of e.g. mute-controlled light lines and underwater lights – even completely around the ship and in the water. Central lighting control systems with the corresponding "moods" are in great demand. And of course certified illuminated helicopter decks and SPA areas. Our professional partner for underwater lights is Lumishore.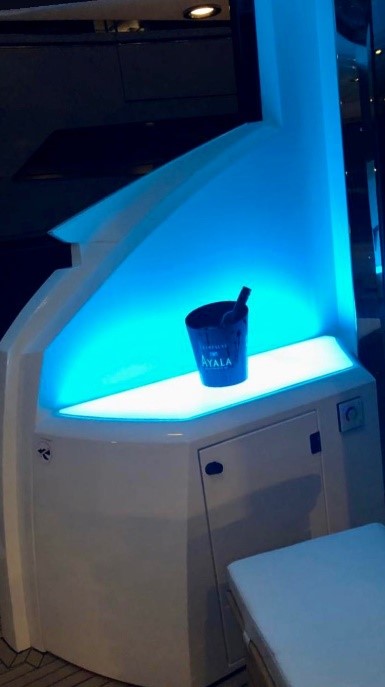 Merk & Merk: How about new technologies? What do you use?
Kristin & Stefan: New technologies arise from the ever-increasing development of the LED. The new generations are even brighter. There is a high demand for mobile phone apps that make it easy to control lights on board, spotlights and underwater lighting. YACHTLITE is always on track for the future, and the YACHTLITE story is always on-going. We want to continually surprise and inspire our customers and partners with exciting new ideas and applications. Because also for the future the fact remains that YACHTLITE is and always will be "the Original"!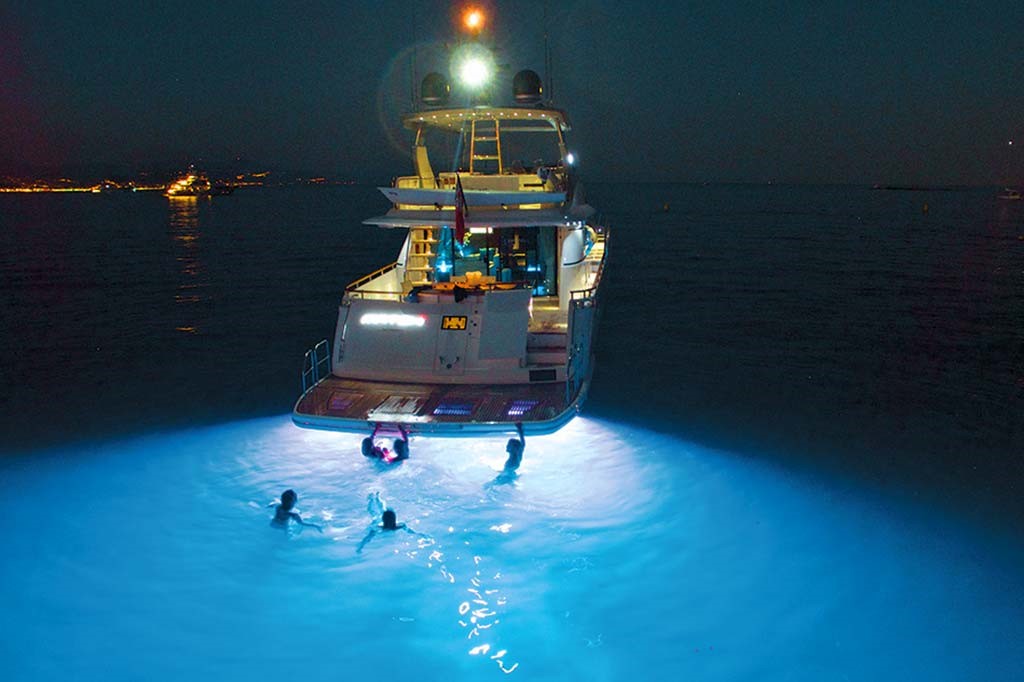 Merk & Merk: Why to choose YACHTLITE?
Kristin & Stefan: At YACHTLITE our customers receive holistic concepts with individual advice, tailor-made for the specific details on board. As a provider of sophisticated lighting solutions in the maritime sector and a member of the Deutsche Yachten Group, we are of course regularly present at all important trade fairs and events all over the world, and we are internationally networked. At each event we look forward to deepening existing contacts and making new ones. It's from these conversations and encounters that new relationships, ideas, projects – and also again and again new YACHTLITE concepts and services are developed. Our partner network has taken on worldwide dimensions, so we can offer our customers optimum support in sales, supervision and installation at all times.
Wish to illuminate your yacht to give her the individual touch? Send us your inquiry!
Or visit www.yachtlite.com and refer to this blog for a special deal!